DIRECT CLUTCH ADGP STATE OF ORIGIN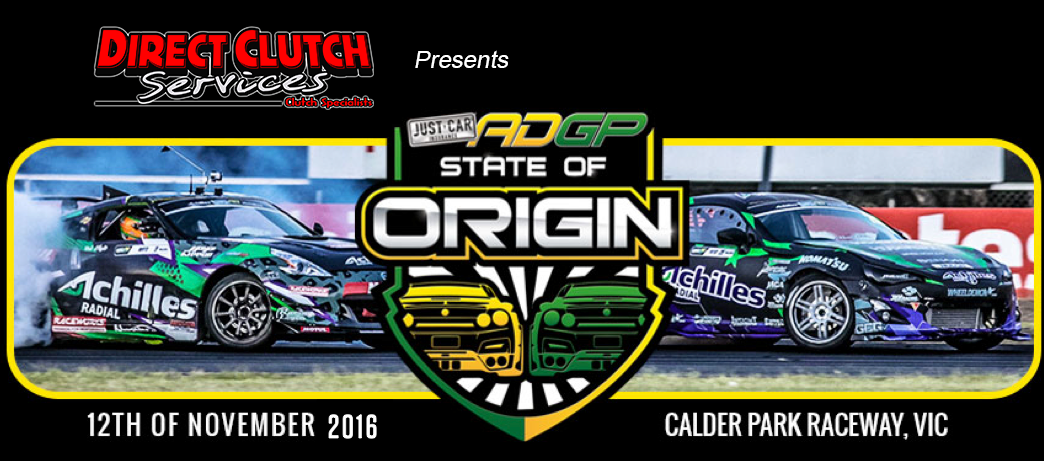 At the close of the 2014/15 Just Car Insurance Australian Drifting Grand Prix Season, it's organisers, Track Battle, released another fresh innovative to join next seasons tour with the "State of Origin" competition.
Just like the famous NRL match ups, ADGP has created an event that instills the interstate rivalry hardcore fans thrive on. Teams from QLD, VIC, SA, NSW and WA will battle it out at the Calder Park Thunder Dome on November 12th in-conjunction with the last instalment of the 2016 Just Car Insurance Jamboree Sports Compact Drag Racing Tour.
The event is set to be one of the biggest on the Australian motorsport calendar with the Calder Park venue coming alive for Drag Racing, Drifting and a Show 'n' Shine not to mention all the off track action that's in store! It's one not to be missed.
Each State will present a team consisting of 5 drivers and up to two reserve drivers in a showdown where the winner takes all. Like most team sports the competition will run on a fixture style format with each team having a ballot draw to determine who battles who in the Prelim rounds! It's going to be a cracker!
DRAFT SCHEDULE
0700 GATES OPEN
0700-0800 FINAL BUMP IN & ACCREDITATION/SIGN ON
0700-0800 FINAL TECH INSPECTION
0800-0830 COMPULSORY DRIVERS BRIEFING
0900-1100 OPEN PRACTICE – ALL
1100-1230 PRELIM ROUNDS
1230-1300 LUNCH BREAK – OFF TRACK ACTIVITY
1300-1700 PRELIM ROUNDS
1700-1800 SEMI FINALS & FINAL
1800 PODIUM PRESENTATION
1900 EVENT CLOSED
2000 VENUE CLOSED – ALL TEAMS TO BE VACATED
TEAMS

TEAM CAPTAINS

TEAM LINE UP

WESTERN
A\USTRALIA

TBA

NEW
SOUTH
WALES

TBA

QUEENSLAND

SOUTH
A\USTRALIA

TBA

VICTORIA

TBA
Stay tuned for Team Line Up in the coming weeks.
______________________________________________________________________________