NEWS - ITEM 114
EL SNIPER HAS J20 IN HIS SIGHTS
Date: 8/8/10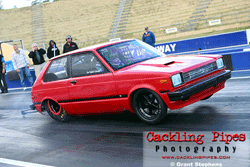 After two long years in the build Dean Cordowiner's "EL SNIPER" Starlet is set to officially debut at jamboree 2010.
The car originally purchased from Puerto Rico in 2007 as a 3/4 Valdo's chassis Starlet, has now been modified by DJC Racing to a full chassis since landing in 2008, in order to be maintenance friendly.
It has undergone a complete tear down, makeover and not one piece has been left untouched, to ensure the end result of a consistent and a professionally finished race car to Dean's high standards, and to help secure possible future sponsorship.
The 13B turbo combo it runs is typical of the Puerto Rican set ups, and combined with a Liberty transmission and Ford 9" rear end the team are confident in time of bettering the best of a 7.61 it ran in Puerto Rico, even at the ANDRA specified weight of 2100lbs its set up for.
After a positive and successful first outing at a private test session at the WSID in June running a lazy 8.22 @ 160mph. At a July test day the car dropped down to 7.81sec @ 170 mph on it's 1st full power run. El Sniper will see it's first competition action at the Jamboree this year.
"I've always wanted to debut the car at Jambo as it's the biggest sport compact event of the year. I'm not going to push the car or myself to hard first up, as the whole deal is new to me. I've spent to much time and money to push things to quick to soon. The Starlet is a real small car and a handful but the chassis is great and I believe we will still run good. The motor is basically a spare motor but is being used to set everything up and get used to the car. We have a premium race motor in pipeline, that we'll step up to once I'm settled in the car ". Comments Dean.
Dean would like to thank all involved to date especially his wife Susan and his two daughters Tamsyn and Zoe, his crew which is his father John and good friend Dale, Brad at Miracle Car Modifications, Justin at Blacktrack Performance, Jon at Microtech Global and Jorge Steidel at Steidel Racing in Puerto Rico. Check out El Sniper at the Jamboree, August 21 & 22.
__________________________________________________________