NEWS - ITEM 118
STREET 289 TOP 8 TO GO PRO AT J20
Date: 18/8/10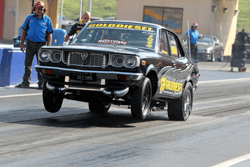 The quickest 8 Gas Motorsport Street 289 competitors from qualifying at the 2010 Jamboree, will have the opportunity to race headups with a Pro Tree in a Chicago Shootout exhibition.
No prize money, it's all bragging rights, and about going flatout, side by side, on a 28x9 tyre with the 1st to the end of the quarter mile the winner. This is only an exhibition class so if any of the top 8 wishes to continue in the DYO class that's fine.
We'll basically run the Pro 289 Exhibition with the quickest 8 that wish to be a part of it. With the Chicago Shootout you'll the quickest 289 in the country fighting it out of rounds with the 2 competitors with the most wins in the final. Pro 289, bring it on!
__________________________________________________________