NEWS - ITEM 120
THEO'S LOOKING FOR MORE AT j20
Date: 18/8/10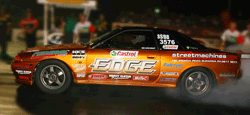 Theo Woollett and his ON EDGE Nissan GTR is looking for more at this weekends Jamboree at Willowbank Raceway. After a very promising Castrol EDGE Winternationals, where he stopped the clocks during qualifying, for a personal best 8.746sec at 158.37MPH.
Theo has his sights firmly fixed on the 8.61 World record.
A split intercooler put an end to Theo's Winternationals campaign which has now been replaced with a PWR extruded intercooler specially designed to handle Theo's heavy right foot!!!
"Getting a win will be tough but it is possible. With the ON EDGE GTR's recent success at the winters, confidence is high and with the new intercooler tested we are looking to go quicker again".

"We have got a couple of other things sorted out so let's hope a good race weekend comes together. Saturday will be all about going as quick as possible and then come Sunday consistency will be the aim."

"The Jamboree is a great event. A lot of people say it is like the Gold Coast V8 Supercar carnival for Drag Racing with lots of off track entertainment. It is always a great event I cannot wait."
Theo will have his work cut out for him when qualifying for the ultra-competitive Modified Compact bracket. The event has attracted 40 entries this week-end and gets underway at 9am on Saturday Morning.
The J20 Jamboree hits Willowbank Raceway this weekend August 21 - 22 in it's 20th year, for Australia's Biggest Sport Compact Drag Racing event. The Jamboree's Off Track support program is set to explode this year with the Show-N-Shine, Dyno Comp, Sound Display, Club Displays, Babe Comp, Traders and much more. It will be an event not to miss.
__________________________________________________________