NEWS - ITEM 132
SYDNEY JAMBOREE STREAMS LIVE THIS SUNDAY
Date: 30/03/11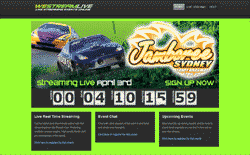 The new and improved www.westreamlive.com.au is ready to roll for the Sydney Jamboree this Sydney, April 3rd.
For the first time ever, the Sydney Jamboree will be streamed live on the Internet where Drag Racing fans from 38 different countries can log in to watch live racing action. A state of the art fibre optic streaming system, comprising four separate cameras along the Quarter Mile.
There will be a 100km exclusion zone for the Western Sydney pocket, if you live within this zone, your only opportunity to catch the action is to attend Sydney Jamboree and soak up the atmosphere in person.
For those outside the exclusion zone we've added an "Event Chat" section below the Stream where you can chat with other viewers of the event in real-time and share your thoughts. Keep them clean people or you'll be booted off with no refund. We'll also included the race schedule to the right of the stream so you can see what's coming next, please remember that this is live Racing action so accidents may cause minor delays to the programmed schedule. The streaming quality has also been improved giving you much crisper viewing experience.
We have 160 of Australia's best Sport Compact vehicles hitting the track and with www.westreamlive.com.au you won't miss any of the action.
Qualifying from 8.30am to 2.45pm, before racing takes place from 3pm. Visit the www.westreamlive.com.au website, where you can pre-register and on Sunday April 3rd access live streaming for just $5 for the whole day!
For more information on the Sydney Jamboree please visit www.jamboree.com.au
__________________________________________________________