NEWS - ITEM 137
gas ready for NITRO CHAMPS
Date: 28/04/11
Gas Motorsport will be out in force this weekend for the 2011 Nitro Champs at Sydney Dragway with 3 entries in the Super Compact bracket.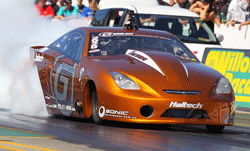 In almost a re-run of the Sydney Jamboree, Team principle Joe Signorelli will again be upagainst the likes of Harvey, Rehayem and fellow team member Zoran Gajic in the AA/SC ranks. With a recent 6.48 & 6.55 @ 216mph Signorelli is in fine form for the event with his 2JZ powered Toyota Celica.
Also in AA/SC is Zoran Gajic in the 2JZ BMW. Gajic suffered a major engine failure at the Sydney Jamboree leaving plenty of metal on the startline. With a new engine on board Gajic is looking to push further into the 6sec zone this weekend.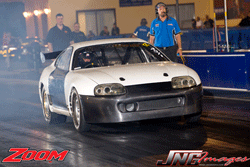 The new / old comer to the Gas Trio is Po Tung competing in the AA/OM class with his new Toyota Supra and you guessed it, powered by a 2JZ. Tung impress at the Sydney Jamboree reeling off consistent 7.9sec passes in it's 1st ever competition event. In fact it's 1st time on the track was the Friday night before the Sydney Jamboree where he stopped the clock with an 8.3 and 8.14 passes. Driving through a Turbo 400 automatic trans this Supra has put the fear in the small tyred brigade and you can bet they've only just touched the surface.
If you're into Sport Compact get along and support the Gas guys and the other Super Compact competitors at the Nitro Champs. For more details on the event click HERE.
__________________________________________________________