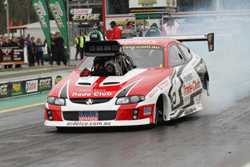 The Castrol EDGE Winternationals Top Doorslammer field is set to explode when the categories' heavy hitters return to Willowbank Raceway for the event's continuation July 15-17.
From the outstanding field of Doorslammers that have nominated, four drivers are still in with a shot at winning the ANDRA Pro Series Title. With just one session complete, it is going to be critical to record top times in the remaining two qualifying sessions on July 16.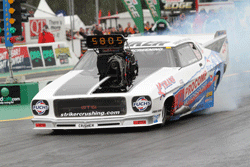 Current championship points leader and reigning 2010 champion John Zappia in his evocative HQ Holden Monaro is on 441 points, leading Mark Belleri by 53 points on 388, Maurice Fabietti is in third on 361 and Robin Judd trails the three on 338 points.
Peter Kapiris led the event in qualifying before the rain set in last month, but Zappia qualified second fastest, with Mark Belleri close behind in third and Ben Bray produced the fourth fastest qualifying time.
Bray – who is backed by Sidchrome and event sponsor, Castrol EDGE - had been enjoying a stunning return to form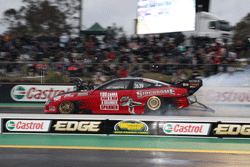 ahead of the event on Australia's biggest stage.
The Championship showdown is set to be state versus state with Zappia and Judd travelling back from Western Australia and Belleri and Fabietti crossing the border from New South Wales for the rerun.
On the very last pass of the Queen's Birthday Long Weekend, Zappia produced one of the most stunning Doorslammer passes ever seen at Willowbank. With wheels in the air, the West Aussie veteran was able to record a 5.82 second pass, leaving him just shy of the world record for the category.
The competition will pick up where it left off in June with two full rounds of ANDRA Pro Series qualifying on Saturday and eliminations on Sunday. The Rocket All Stars Series Racing will also resume.
The Castrol EDGE Winternationals is the biggest event of its type outside of the United States, with over 300 competitors charging down the strip in pursuit of Australian drag racing's greatest prize.
"Willowbank loves to put on a show and this is certainly one of the best in the world, we get to do it again and build on what we already had in place to make it even better for the competitors, the fans and the Ipswich community," said Steve Bettes, Willowbank Raceway Managing Director.
"The Castrol EDGE Winternationals is an iconic part of the Ipswich events calendar each year and is worth millions of dollars annually. Particularly this year, the boost that Willowbank Raceway is providing to the local area is incredibly noticeable."
The Castrol EDGE Winternationals will kick off with testing for Rocket All Stars Series racers on Friday June 15, before the ANDRA Pro Series hits the track on Saturday, July 16. The event will culminate with eliminations on Sunday July 17.
Please see www.willowbankraceway.com.au for all ticketing information including additional information on pre-purchased tickets for the original June event.