NEWS - ITEM 144
MICROTECH EFI LAUNCHES NEW WEBSITE
Date: 15/07/11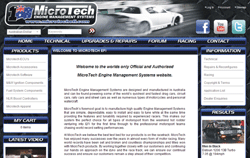 Long time sponsor & proud supporter of the Sport Compact Scene, MicroTech EFI, are proud to announce the release of their all new website.
www.microtechefi.com is the worlds only official and authorised MicroTech Engine Management Systems website. The new site makes it easier than ever for Microtech fans to get product information & stay up to date with the latest news & racing results in the MicroTech world.
The totally redesigned & new look website has all the latest product information on the new version MicroTech LT-16 along with the entire MicroTech product range. The MicroTech support forums are back up and running along with MicroTech EFI on Facebook & Twitter.
Check it out at www.microtechefi.com
__________________________________________________________