NEWS - ITEM 145
THREE R35 GT-R PRO TURBO CARS REVEALED
Date: 18/07/11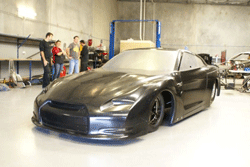 Aaron Gregory of ITP Race Cars is proud to unveil his latest project, a brand new truly intimidating three car R35 GT-R Outlaw Racing Team!
Perth based ITP Race Cars has secretly been building not one, but three full chassis drag cars simultaneously, all clad in the world's first smoothed and improved carbon fibre R35 GT-R body.
With all three cars rolling out of the chassis jigs, the boys at ITP are working madly to get these new 10.5" tired Sports Compact Monsters ready for the teams debut in "Pro Turbo" and "AA/SC" brackets.
All driveline specs for now are still a well kept secret, but we can confirm that Haltech Platinum Sport 2000 ECU's and a truckload of Racepak gear have already been shipped to WA from the boys at Haltech.
With the first of the three cars already delivered, the final 2 cars are now at the paint shop with Aaron pushing to have them ready for debut at 2011 Brisbane Jamboree on August 27/28.
There are still sponsorship opportunities available with the R35 Outlaw Team – All enquiry's can be directed to Aaron at ITP Race Cars +61 894346608 aaron@intuneperformance.com.au
Still tuned for more updates as they come to hand and check out the ITP Facebook page.
__________________________________________________________