NEWS - ITEM 179
PARADISE MOTOR HOMES NAMED OFFICIAL SUPPLIER
Date: 15/09/12
We'd like to welcome Paradise Motor Homes as the Official Motor Home of the 2012 Brisbane Jamboree.
Brothers Ben & Michael MacLean of Paradise Motor Homes, are both keen Sport Compact racers and will be competing at this years Brisbane Jamboree.
The Gold Coast based Paradise Motor Homes is a family run business and is Australia's Most Innovative Motorhome Manufacturer.
In this hectic day and age when leisure time is precious, you need to be sure your time on the road is a relaxing and rewarding experience. Escaping in a Paradise motorhome allows you to enjoy your travel lifestyle in the safety and comfort you deserve.


As your home away from home, the very essence of our motorhome design is to provide you with the perfect place to unwind and recharge as you undertakeyour journey. That's why their range includes spacious living areas, quality island beds, leather captain's chairs, roomy ensuites with separate shower and toilet, well equipped kitchens, flatscreen televisions and ample storage - all this in practical-sized, easy to drive motorhomes.
Over the years, Paradise Motor Homes has gained an enviable reputation as a world leader in motorhome design with its outstanding range of award-winning lightweight motorhomes. Each model sets the highest benchmark for optimum use of space, functionality and living standards in their class.
From their extremely functional Oasis van conversion at approximately $128,000 all the way through our range to the luxuriously decadent Independence Deluxe at almost $500,000, they aim to inspire you and turn your travel dreams into an exciting reality.
Paradise Motor Homes commenced motorhome manufacturing in 2002. Their groundbreaking designs, based on advanced technology, superior use of space and lightweight construction, took the industry by storm. Paradise's innovative concept of slide-outs in a car licence motorhome was unprecedented and became a runaway success with numerous industry awards and enthusiastic customers prepared to wait two years to take delivery.
To meet the extraordinary demand for their market-leading product Paradise Motor Homes expanded to a modern drive-through production facility at Arundel on the Gold Coast, increasing production and reducing the extraordinary waiting times to less than three months.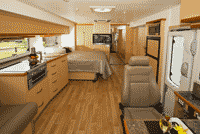 Their ongoing research and development programme gives them a distinct advantage over competitor vehicles. In fact, it has been so successful they have had to patent their superior construction features & register their market-leading designs. Dramatically lighter & stronger, every kilogram saved in their exacting build process results in either improved fuel economy or the ability to include additional luxury features without compromising the weight limit of the motorhome. From a romantic weekend getaway to an extended trip around Australia, Paradise provides a world-class motorhome with outstanding liveability that is a genuine pleasure to drive.
Checkout the full range of Paradise Motor Homes at www.paradisemotorhomes.com.au
__________________________________________________________