NEWS - ITEM 182
AWESOME SIDCHROME GIVEAWAY AT JAMBOREE
Date: 20/09/12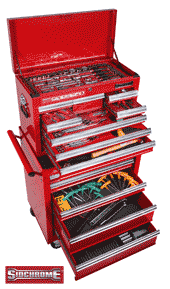 Our great friends a Sidchrome and Team Bray Racing, have hooked the Jamboree up with 3 AWESOME Sidchrome Toolboxs valued at over $9000, as part of the Jamboree Spectator Survey this weekend.
In return for taking our survey, which can be filled out at our Touch Screen Survey Kiosks at the Jamboree merchandise tent, next to the main stage in the pits, fans will enter the draw for one of 3 toolboxs.
As well as the grand prize of a Sidchrome #10114 model toolbox worth $4000 (pictured left), we also have a Sidchrome #10145 model toolbox worth $3500 and a Sidchrome #10133 model toolbox worth $1500 that will be given away to a lucky winner from the Jamboree Survey.
The winner will be chosen at random from the survey and contacted via the details provided in the survey after the event. Only one entry per spectator permitted. The survey data collected will allow us to fine tune the Jamboree even more.
So, to get in the draw for one of these awesome Sidchrome toolbox's , simply drop into the Jamboree Merchandise Tent next to the main stage in the pits, do the quick survey and you are in the draw!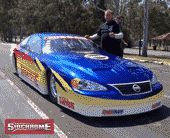 While you're at the Jamboree make sure you checkout Ben Brays new Nissan Altima Pro Compact car. On Brays 1st full pass today in test, the 4cylinder SR20 powered Nissan stopped the clocks at a 7.49 @ 187mph.
Make sure you become a fan of the Jamboree on Facebook and check out more about the Sidchrome range at www.sidchrome.com.au
__________________________________________________________