NEWS - ITEM 184
TURBOSMART BACKS STREET COMPACT CLASS
Date: 20/09/12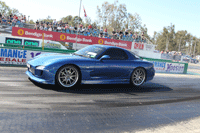 Long time supporter of the Jamboree series and the sport compact racing – Turbosmart, has once again put their brand name behind the popular Street Compact Class.
The Street Compact Class is open to vehicles using a 3, 4 or 5-cylinder (or 6-cylinder OHC) engines as well as 2-rotor or 3-rotor engines with a maximum of two power adders permitted.

"It's a really exciting Class to watch," said Turbosmart CEO, Nic Cooper, "A lot of those cars are road registered and there's no better place to see so many tough and fast street cars going head to head!"
And let's not forget the big guns – Turbosmart-sponsored, PAC Performance Mazda 6 SP will make its official debut, going up against its arch nemesis – GAS Motorsport Celica.
__________________________________________________________