NEWS - ITEM 190
ONLY 33 DAYS TILL THE SYDNEY JAMBOREE
SPORT COMPACT EVENT COMES TO TOWN
Date: 04/03/13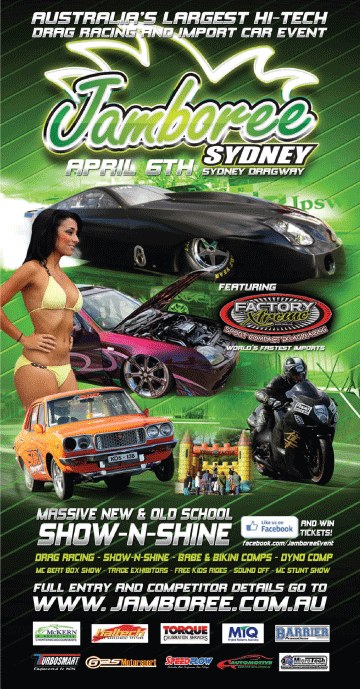 Entries are officially open for the 2013 Sydney Jamboree! 2013 sees the Sydney Jamboree celebrating it's 10th Birthday and have we got a sow lined up for you!
Staged over an epic day/night at Sydney Dragway in NSW on Saturday April 6th, this year's event is set to eclipse all others before it. The Sydney Jamboree is not just a drag racing event, it's Australia's Largest Hi-Tech Automotive Lifestyle event.
Alongside 12 Sport Compact & Sports Bike categories of racing scheduled for the weekend, there will be a huge Show-N-Shine static display, the essential Dyno Comp, Audio Sound Off Comp, Club & Trader displays, Beat Box Shows, Babe 'n' Bikini Comps and the craziest Motorcycle Stunt & Drifting Shows. And that's just where the fun begins…

Come along and be part of the action. Entry details below.
Spectator pricing Info
On Day Purchase at the gate
Adult - $25
12 - 16 years - $20
Kids under 12 FREE
More info? Click HERE
Competitors
This is a Pre-entry event only. Entry price is date effective, the earlier you enter the cheaper it is. For more details click on the links below.
Drag Racing - From $80
Show-N-Shine - From $45
Club Displays - From $45
Dyno Comp - From $65
Sound Off dB Drags - From $45

For pricing details click HERE

__________________________________________________________