NEWS - ITEM 192
THE KID SHOOTS FOR 'SIX' AT WILLOWBANK PRO STREET SHOOTOUT
Date: 23/03/13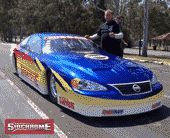 Team Bray Racing's Ben 'the kid' Bray and his Sidchrome Nissan Altima will be on track at Willowbank Raceway this weekend (23 March) for the Australian Pro Street Association's Pro Street Shootout.
While this Saturday's venture may not be for the ANDRA championship, Ben will be as focused as always with a very particular goal in mind – a 'six second' result.
"In the next month, I have three events scheduled for the Sidchrome Nissan Altima – this weekend's Pro Street Shootout, the Santo's Cranes Super 3 Extreme Drag Race (29-30 March), and the Sydney Jamboree (6 April)," said Bray. "
There are only three four cylinder cars in Australia which have run in the six second range at this current time – by the end of the next three events, I want to be the fourth."
The 29 year old's preparation is off to a good start, with the three-time ANDRA champion setting a new personal best of 7.05 seconds at 193 miles per hour during testing at Willowbank Raceway last weekend.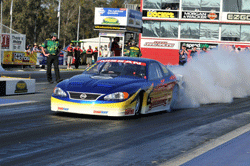 "Things are certainly shaping up well for the weekend - with a new PB of 7.05 seconds, we are inching closer and closer to hitting that 'six second' marker," said Bray.
"We know there is more in the car – the mile per hour was lower than it could have been during that run thanks to a clutch slip, so we are confident we can continue to improve.
"By the Sydney Jamboree, I want to be in that six second range and ready to challenge my friend and current four cylinder record holder Michael Baghdadi (6.846s at 203.64mph)."
Through his business Mick's Motorsport, Baghdadi has played a crucial role in the development of the Team Bray Racing Altima through the development of a SR20 engine – the same engine used by the record holder.
"While a 6.80 second result may be pretty ambitious at this point, if I can get into that range and cut a good light against Mick, he will need to be on his game," said Bray.
"Before we get to the Jamboree however, I have plenty of work to do with two big events at Willowbank Raceway. Thanks to our recent testing I am feeling comfortable – it is always a bit of a spin to switch from the right hand drive three speed gear box of the Doorslammer to the left hand drive four speed gear box of the Nissan – and ready to give it my best this weekend."
For more information on Team Bray Racing, please visit www.teambrayracing.com. Fans can also keep up to date with the team thanks to the new Team Bray Racing app which offers news, image updates, a live webcam and lots more for free for Apple and Android users. To download the app, visit http://apps.appmixpro.com/appm/rn5p013f6y47iw on a mobile device to access or alternatively scan the QR code in this press release with a mobile device.
For media enquiries, please contact:
Richard Smith
Team Bray Racing
Phone: 0418 199 035
Email: richard@teambrayracing.com
Web: www.teambrayracing.com
__________________________________________________________