NEWS - ITEM 211
HALTECH READY FOR BRISBANE JAMBOREE
Date: 20/09/13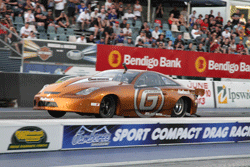 Haltech has been a long time supporter and sponsor of sport compact drag racing in Australia and its association with Brisbane Jamboree goes back more than a decade.

This year Haltech-powered cars will take centre stage with no less than two World Record cars (GAS Performance Celica and PAC Performance Mazda 6 SP) attempting to better their PBs at the event.

Haltech is also a proud sponsor of the Modified Compact class which includes full bodied RWD, AWD and FWD sedan style vehicles with 4 to 6 OHC or 2 – 3 rotor engines.

Apart from all the latest products on display, Haltech will also be launching its 2014 Merchandise Range at the event so make sure to come and visit their tent!
__________________________________________________________