NEWS - ITEM 227
EXTREME 10.5 SET TO UNLEASH ON BRISBANE JAMBOREE
Date: 5/08/14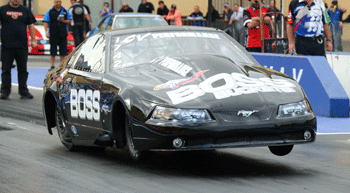 The world's fastest cars on a 10.5 tyre are set to be unleashed on Willowbank Raceway at the Brisbane Jamboree, August 30, 2014. In an epic battle that will see four twin-turbo V8s and two mental supercharged Hemi-powered beasts face off, this is one spectacle not to be missed by any drag racing fan!
The field includes both the world's fastest male and female 10.5 racers with the 252mph twin-turbo Moit's Racing Mustang driven by Paul Mouhayet and Michelle Davies' mental Torana hatch doing battle with the best under-tyred and over-powered race cars in the land.
With a new format that sees all of the action of the Brisbane Jamboree packed into one incredible day of racing, Willowbank Raceway is the place to be on the 30th of August. See the heroes of 10.5 drag racing together with the fastest sport compact racers on the planet as well as babe and bikini comps, club displays, a dyno competition, drift exhibition, Downshift meet and 250 other racing teams all in the one place.
For more information on the new-look Jamboree at Willowbank Raceway on 30 August, 2014 visit www.jamboree.com.au
__________________________________________________________