NEWS - ITEM 247
25 ANNIVERSARY JAMBOREE SET TO THRILL
Date: 11/07/15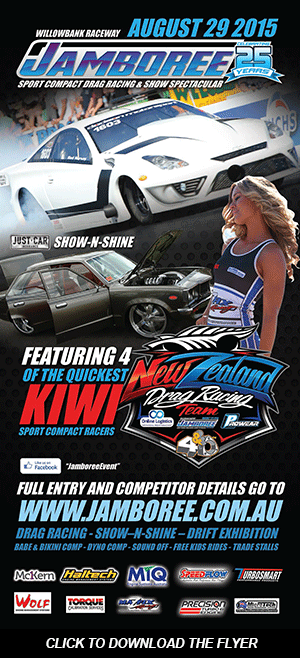 The 25th Brisbane Jamboree is set to smash it out of the park with Australia's fastest Sport Compacts on tap & ready to roll, and four top Kiwi race teams crossing the Tasman to heat things up.

Fast small-car racing doesn't get any bigger than the Jamboree and as the event celebrates its 25th Anniversary, organisers are pulling out all the stops to make J25 the best sport compact racing show in history.

Scheduled for one huge day and night of racing, Jamboree is packing the best small engine/huge turbocharger combinations from Australia and New Zealand into one show that will see epic trans-Tasman match-ups and some world record smashing performances.

Team New Zealand are bringin' it with some serious horsepower geared into their Jamboree attack and have their eyes firmly set on some local contenders. The world's quickest GT-R, the RIPS R32 driven by Robbie Ward, will be one to watch as he aims to annihilate his current world record of 7.32sec and lay the smack down to Australia's best AWD racers.

Renowned Kiwi rotary racers Tony Markovina with Abbott brothers Cory & Jeremy are doing it for the Mazda fans with Markovina debuting his all new 20B powered full chassis machine on Aussie soil. Add to that Ben Cox in his SR20 powered Datsun 1200 coupe flying the 4 cylinder flag.

Aside from a hectic schedule of awesome racing, an expanded and improved Show N Shine area, new Show N Sell section, Dyno and Drifting demos and all of the best traders in the business are on offer, ready and able to discuss your next street or race car project.

The 25th Anniversary Jamboree hits Brisbane on August 29 – a full day and night, of epic Sport Compact drag racing action and plenty more at Willowbank Raceway, Champions Way, Willowbank QLD. Tickets are available at the gate or online from www.jamboree.com.au. Children 13 and under admitted free. Spectator gates open from 7:30am.