NEWS - ITEM 273
SPOT ON PERFORMANCE – J275 IS HERE!
Date: 15/06/16



Spot-On Performance & Fabrications announced as J275 category sponsor.
J275 is the most exciting new addition to Australian drag racing and Jamboree is proud to announce that the category partner for the Brisbane event is Spot-On Performance & Fabrications.
Specializing in both race car and street car high performance modification including Motorsport fabrication, engine building and more, the team at Spot-On Performance & Fabrications are experienced players in the bustling Queensland aftermarket industry. With skills honed not just on their customers' vehicles but on their own collection of turbocharged automotive weaponry, Spot-On have been regular entrants at Jamboree events and have amassed a huge collection of J trophies in recent years.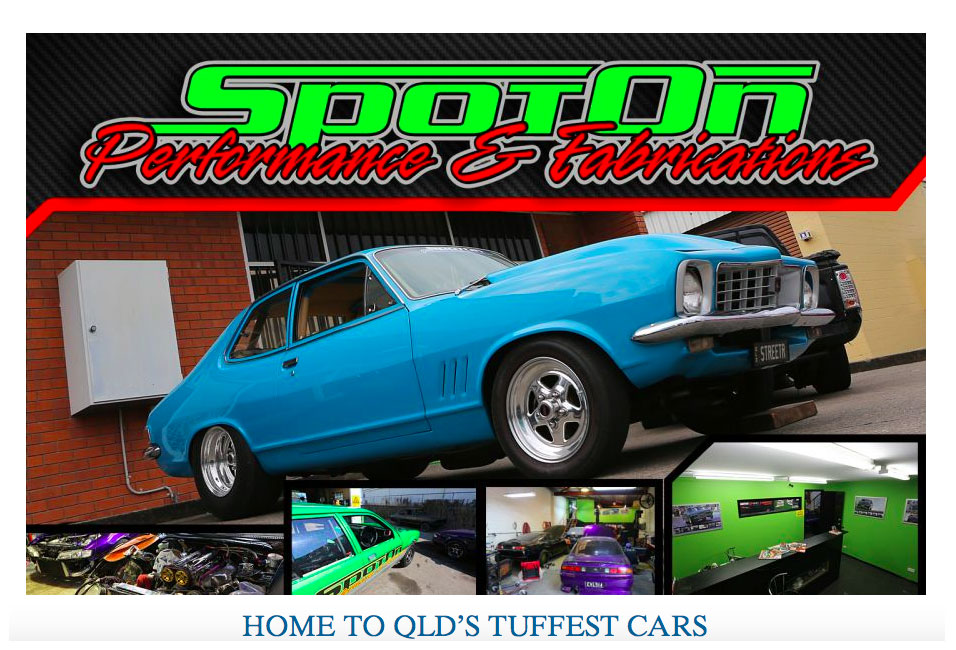 Spot-On's own Andrew Coles said he was excited about the future of radial tyre racing in Australia and the J275 category especially.
"J275 is going to be where it's at for us and for plenty of our customers as well. We actually thought about setting up our VL wagon to suit big slicks and going big horsepower, big tyre racing. But Danny had traveled to the home of radial racing in the USA and seen where the industry was going and we knew that would soon be the same here in Australia.
"When we first put the 275 tyre on the wagon it went quicker and my business partner Danny said the car felt better to drive as well. Because changing to this tyre doesn't hurt performance we can now build really fast cars that still look like street cars but go as fast or faster than cars with big slicks. Some of our big tyre customers have even turned their race cars back into radial cars."
Andrew says the Spot-On team are excited to be part of the rapidly growing J275 category and that he's looking forward to seeing what the racing brings when it comes to Willowbank Raceway for the Just Car Insurance Brisbane Jamboree presented by Garrett turbochargers on August 27, 2016.
For more details on Spot On Performance &Fabrications www.spotonperformance.com.au