NEWS - ITEM 283
JCI MELBOURNE JAMBOREE MEETING REPORT
Date: 23/10/16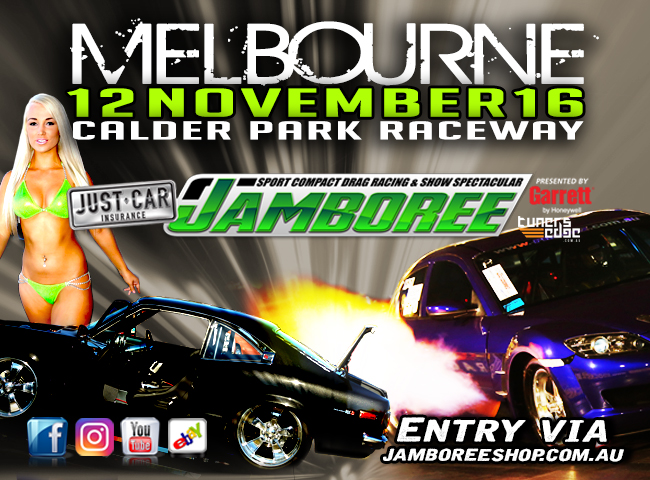 Calder Park Raceway November 12
Melbourne Jamboree Blows Away the Doubters!
After an amazing 2015 debut, the return of the Just Car Insurance Melbourne Jamboree to Calder Park Raceway saw an amazing turnout of cars, and obvious signs that the iconic "J" car festival left its mark on the Victorian scene last October.
November 12's weather forecast gradually worsened as each day approached, and ranged from storms on Saturday, clearing Sunday, to rain, to showers, then back to rain, rain, and more rain!
Although events like Jamboree feature plenty of entertainment off-track, the drag racing element would suffer the most. With a very promising entry list of 120, the drag strip action that so many Jambo fans love was in danger of being a wash-out, despite the Sunday rain date.
But despite a late Friday night storm event, Saturday dawned to a dry sky, peppered by the aftermath of a large weather system that had passed through. Cloud was light and the wind was…..very windy! Clouds bearing rain showers could be seen blowing past at up to 50 km/h as the back of the storm system vanished. The coveted Calder Park track surface was still cold, but was dried, sprayed, and readied for action. Sunlight and blue sky would occasionally open up, only to be covered again by doubtful clouds.
But in an obvious sign that the gods of horsepower were rotary fans, it did not rain again until Sunday November 13 at 3AM! And for those people who still turned up to be a part of it, the 2016 Melbourne Jamboree delivered the best day of car coolness seen in Victoria this year!
The crowd peak was still indeed very thick as thousands of fans rolled through the sprawling venue and set off in various directions to take in the numerous entities that Jamboree has been built on. From the Thunderdome's Direct Clutch ADGP State of Origin Drift Comp, to the all-class Show n Shine, where hundreds of Melbourne's coolest rides was on display. Sound-off numbers were drastically up in Melbourne too as sound systems have also upgraded since 2015! Trade Alley and the Jam Central Stage Precinct were again densely populated, with more traders than ever! Presenting Partners Garrett Turbo and Tuners Edge joined dozens of industry players in one of the best "Jambo Malls" ever seen in this part of the world. It's amazing what this little 26-year old car event can do for an industry!
But there's something about seeing wild, 4-wheeled machinery let loose on a drag strip, especially when the crowd wants it to be something they've never seen before. And once again, Jamboree delivered what the wide world of Sport Compact expects….everything it has!
And with Sydney JAM Locked in for March 2017, there's more to come!
FACTORY EXTREME vs PRO MOD: Cannistra

Precision Turbo Factory Extreme fielded a team consisting of the 2-car Scott Porter Racing Nissan v6's, Mazfix's 20B Mazda 6, and introduced Dion Amato's new Barra-6 powered Dodge Avenger to the category. Pro Mod fielded Rob Taylor's "Mad Professor" blown hemi Camaro, Dom Luppino's wild 670-cube twin-turbo radial Mustang Fastback and Steve Athan's wild big-tyre twin turbo BBC Mustang. With 1751 cubic inches (106 litres of engine capacity!), the v'8s brought plenty, but with a 1000ft challenge in place, the FX cars backed themselves with their measly sub-15 litres combined!
Despite never racing at Calder, Porter fired an off-trailer 5.24/215, on-par with his best ever numbers to the 1000ft distance. That time stood as provisional pole, and Porter rested the mighty VQ from any further attempts until needed. Whilst many teams experienced the tight track conditions by virtue of shake, all showed potential of belting out a similar time. Taylor responded on his home track by edging Porter from Pole with a 5.13/218 in the second session. Cannistra recovered from shake to snag 3rd with a 5.60, Luppino's 5.93 was 4th and Archie Kajewski's 6.05 was good enough for 5th. Amato blew the tyres off the Avenger, but recovered to a 6.43 whilst Athans' close 6.48 ended up 7th, but had to withdraw due to mechanical issues.

The 3-round Format saw Taylor solo with a pedalling 5.34, whilst Porter was shut down on the line with an issue against Luppino. Dom's 5.88 racked up another win for the v8's as Cannistra drove through shake again for a win against a tyre-spinning Kajewski. Amato soloed and launched with a great 1.06 ft. and shut-off 6.74 to rack up another pass for the new car.

Round 2 saw Porter return for a seeded solo, and ripped out a great 1.02 60ft launch and 330ft time before shutting off. Taylor then faced Cannistra in what was to be a memorable run for all the wrong reasons. With both cars armed and ready, Taylor bumped into stage with his revs up high. Cannistra moved an instant later, with the turbos heard at full spool. Frank's brilliant .056 Pro tree leave saw the black Infinity launch first, then shake out past 60ft. Taylor's Camaro launched hard with less drama until further down the track, where shake took him along the edge of the centreline. Cannistra was ahead, but Taylor pedalled again in an attempt to pursue the fleeing import. Without warning Taylor's car veered hard left and collected the concrete wall, eventually matching the effort on the other as the Camaro rolled to a stop in the braking area. Taylor emerged from the wreck and was transported to hospital for observation, where he was released after a checkup. Taylor has vowed to return with a new car once fully recovered to further his pursuit. Luppino won round 2 when Amato had driveline issues and could not return. Kajewski staged and claimed his win against Athans' no-show.

A battle of attrition reigned in round 3 with no-shows from Taylor, Athans, Amato and Luppino. Porter soloed to a 1.02 60ft 5.21/217 with again some PB incrementals, Kajewski driving it through for a shut-off 6.46 and Cannistra staging the car and saving it for the final against teammate Porter. An anti-climactic final pairing saw Porter break all the clutch fingers trying to stage against Cannistra, sending Mr Heli through for another shake-affected solo win. Sydney 2017 will no doubt see this particular battle return again in larger numbers!
PRO TURBO: Dyson

Castrol Edge Pro Turbo saw a 6-car field with plenty of variety. 5 six-cylinder cars and the sole rotary of Andrew Dyson faced some interesting moments throughout the day and into the 3-round racing format. Dom Rigoli's 300zx put RB power on the top with a great 6.93, but it was the return of the Quickbitz Supra driven by Kristian Kalaitzakis that saw the sole 2JZ entry peel off back-to back 7.0's with a 7.05 and 7.09 for 2nd place. Nikki Hepburn nailed 3rd with a 7.433 on radials from her 1FZFE boosted 86, closely followed by Alex "Birrong" Cirtoski's 7.438 from the RB R33. Dyson's RX4 settled for 5th with a bucking wild 8.33, whilst the immaculate tube-frame RB powered Pro-Tek R32 of Dom Maiolo trailed with bad shake and a shut off 11.65.

Unfortunately Kalaitzakis had to withdraw with mechanical issues, handing Cirtoski a solo in round 1. Rigoli faced Hepburn and shook violently whilst the radial car bobbed the LH wheel out for at least 200ft, staying glued for a brilliant 7.38. Dyson faced Maiolo, and scored a solo when the Skyline was timed out on the line.

Round 2 saw an all-RB battle with Rigoli and Cirtioski. Rigoli left first, but got way out of shape in his lane, allowing Cirtoski to drive on by for a 6.11 (1000ft time). Dyson soloed against Kalaitzakis' no-show, uncorking a great wheelstand by accident due to an uncooperative clutch! This stood as the winner of the 'Sky's the Limit" wheelie award! Hepburn faced Maiolo and belted out a 7.43 whilst the slick-tyred Skyline spun them immediately on the hit.

Round 3 was down to 4 cars, and started with Dyson taking out Rigoli when the 300zx again went for a wild walk. Hepburn then faced Cirtoski in what was one of the best races of the day. Both running auto transmissions, the staging battle could not have been more professional or suspenseful! Considered a "small tyre" car, Cirtoski faced the 86 of Hepburn that has more engine capacity and even less tyre! As both cars bumped in, Hepburn's .065 light edged Cirtoski's .096. The 86 again bobbed the LH wheel in true radial form only centimetres above the ground, whilst Cirtoski's silver R33 finally grabbed some traction, hauling through for a tight 7.17/189 win to Nikki's storming 7.29/196.

Cirtoski and Dyson ended up with 3 wins apiece, but a broken oil pump drive in this epic race saw the Skyline unable to return. Dyson soloed for the win.
PRO COMPACT: Piscopo

McKern Pro Compact saw 6 cars reduced to 5 after Kelly Bettes suffered a clutch mechanism failure that retired the Lucky Bling Datsun 1200 ute early. This left 5 rotary cars to do battle. After a 6-year hiatus from the seat, PAC Performance's Rodney Rehayem shot out a 7.366 to return to the top of the Pro Compact warfare. Kevin Aouad's Pac 20B powered 28x9 Rx8 joined the fray with a great 7.92, whilst Victorian 13B racers Yurgin Piscopo (8.05), Simon Ioannou (8.11) and Alex Bios (8.74) rounded out the field. It was clearly obvious that this fresh contingent of Victorian rotary pride was gunning for supremacy against their NSW rivals with animated scenes from each team when on the start line.

Round 1 started with a staging process error on Piscopo's behalf against Rehayem, who also suffered the same fate but scored the win without making a run. Aouad faced Ioannou, who used an 8.18 pass to defeat the wheelspinning rx8. Bios soloed to score a win due to a no-show from Bettes.

Round 2 commenced with a great match-up with Ioannou and Rehayem. The start line was killer, which saw the Rx8 bog just slightly, allowing the Rx3 of Rehayem to drive out under full power on his way to an impressive 6.11 (1000ft time). Bios red lit against Aouad, whose 6.72 was equally fast in comparison. Piscopo soloed to take his seeded bye.

Round 3 was over very quickly as teams readied for a final-round call-up. Rodney just staged to record 3 wins, whilst Aouad used his solo to lay down an 8.06 to go 2 from 3. Piscopo faced Ioannou, and ran his best pass of the day with a 7.68/178 whilst the rx8 failed to stage correctly. With 2 wins from 3, and low ET in round 3, Piscopo edged Aouad out of finals contention and turned the Datsun 1200 coupe around to face Rehayem.

The final saw Rodney leave first with a .294 light to Yurgin's .628, but the PAC rx3 needed to reign in a heap of wheelspin early, whilst Piscopo rattled off a great 7.69/179 pass for his first win.

J275: Bezzina

Garrett Turbo J275 saw 7 cars of all kinds battle heads-up for a billet J trophy using the mandatory 275 drag radial. Melbourne's Steve Bezzina topped the charts with a great 7.55 from his amazing 1970 XW GT Falcon. The nearly-1700kg Aussie muscle car features a Dandy Engines twin-turbo 427 cui small block ford on standard suspension, and is a sight to see in action. Sam Scoutas' equally impressive twin-turbo small block powered VS Senator uncorked a 7.78 for 2nd. Brendan Markham's 3.2 litre Rb-powered R33 GTS Skyline reeled off a great 7.94 for 3rd.Andrew Zada's crowd-pleasing street 20B rx3 was 4th with a 8.19, whilst the potent VL Commodores of Matt Simms (8.46) and Nigel Perera (8.67) put Greg Tsakiridis' "Mauler" nitrous Windsor Rx4 in 7th with his flamed-out 9.12.

Round 1 saw Bezzina run a great 7.68 solo, whilst Scoutas and Zada carried out the biggest burn-down in Jamboree history! The Calder Park starter stayed right out of proceedings until nearly 3 minutes before any movement was detected, with the crowd going absolutely crazy! Zada holeshot the VS and then got way loose whilst Sam left off-boost and couldn't reel in the Rx3.Sims soloed with an 8.46 when Markham withdrew and Perera and Tsakiridis each had their problems, but the VL tripped the win light.

Round 2 saw Scoutas arrive late, but was on a bye anyway. Bezzina rolled through easy on his solo as Markham was due to be beside him and Zada used a great 8.14 solo when Perera was out. Sims also ran a good 8.40 solo when Tsakiridis did not return.

Round 3 saw Bezzina run 7.78/176 against Sims and Zada roll through to each score a win.

The final was closer than initially thought, with Bezzina's .085 light and 7.86/176 edge out Zada's .161 light and 8.21, as each driver wrestled for control of their clearly overpowered, yet under tyred machines!

MODIFIED COMPACT: Tolomeo

Wolf Engine Management Modified Compact saw the quickest Street GTR pass in the world take top spot in qualifying, with John Apostolopoulous's "RH7GTR" reeling off a blistering 7.879/177 to jump over both the CRD and Maatouk teams! The CV Performance-tuned GTR made the pass look easy, after an earlier qualifying attempt was incredibly loose and pedalled to an 8.1. But the highs were soon to be lows.

Round 1 saw Apostolopoulous face 6th qualifier Adem Bjemil's Rx3, and after a clean start by both, the GTR veered wildly, collecting the wall and sustaining heavy damage. John was shaken afterwards, but vowed to defend the record in the future.

Elimination format saw the 10-car field reduced to only 2, with Chris Tolomeo's Falcon ute set to face Mark Gilberts neat 77 Mazda rotary pickup in an all-ute final. Only in Australia!
Tolomeo defeated number 2 qualifier James Cannavo's r33 GTR in round 1, whilst Gilbert moved to round 2 via a Barry Cripps red light. It was luck again for Gilbert in round 2 when former winner David Richardson's 9-second turbo Meyers Manx buggy red lit, whilst Tolomeo shut down a red-hot Jay Sadek in his wild 9-second Rx3 street car with a great .040 light and a 9.62 on a 9.60 dial.

Gilbert dialled in a 9.49 against Bjemil's 9.00 dial and only needed a 9.64 against the tough street Rx3 with a sleepy 1.02 reaction time! Tolomeo soloed to the final to meet the fellow ute driver.

Both dialling in 9.60, Tolomeo used a great .076 light and easing 9.98 to despatch Gilbert, whose .199 light and breaking out 9.52 saw him win his first billet runner-up "J" Trophy.
STREET 289: Field

ProMaz Street 289 was populated again with plenty of rotary power, and before too long these small-tyred, stock suspended beasts started to impress. NSW racer Moustafa Sakina top-qualified with an 8.46 whilst Victorians Andrew Meyers (8.57), Mark Field (8.99), Paul Pfeiffer (9.09) and Ross Puliafito (9.17) were not far behind. Only 2 piston-powered cars featured in qualifying (Ben Clark, former winner) and Josh Morrison (Sr20 S13 180sx) but did not front for round 1.

Round 1 saw Sakina solo, whilst Field handled a red-hot Simon Sadek. Mathew Maltaric's wild h-pattern 13b powered Datsun 1200 ute took out the equally wild Meyers with his 13b clutchless 1978 Mazda 323. Ryan Bennett's 13BT Rx4 coupe scored a win when the potent 13BT Gemini of Pfeiffer broke off the line. Sydney bracket threat Rodney Spannenberg's 13BT RX7 weighed in with a first round solo, and Puliafito soloed in his 13BT Rx3 with a great 8.91.

Round 2 Saw Spannenberg red light against Field, Puliafito do the same against Maltaric, and Sakina made it a trio of cherries, with a .047 bulb against Bennett.

Despite attempting to claim the coveted "Smoken" (Best Burnout) billet 'J" trophy, Maltaric's attempts were more impressive with every appearance, but the luck ran out in round 3 handing the win to Field, who was to meet Bennett after he soloed.

With a 9.84 dial-in from yet again another quality 9-second streeter, Bennett left first on a snoozy 1.110 reaction time. Field dialled in sharper with an 8.95, and gained some finish line legroom with a better .187 light and 9.18 run for the win.

STREET COMPACT: Forte

Haltech Street Compact never ceases to amaze with quality street-driven performances, and a healthy 16-car field received plenty of track time. Topped by Craig Pisa's R35 Skyline with a 10.53, Fabian Toperoso's 'lawn bowls' 13BT 626 2nd with an easy 10.59 for 2nd and Colin Riley's Xr6 turbo running a 10.69 for 3rd. From there the field spread into the 11's, 12's and 13's. But it was 15th qualifier Rob Forte that earned a finals spot against the 7th qualifier Alex Tseros and his sweet 11-second street rx2.

With entry numbers low for All Motor, Forte joined fellow aspirated racer Henry Spicak for round one. Forte ripped out the best reaction time of the day for a long stretch in the very first round of racing with a .019 light to put away number 6 qualifier Andrew Grimes. Spicak broke out in a tight race against Toperoso with an 11.81 on an 11.82 dial whilst Tseros soloed.

Round 2 saw Forte despatch another great .039 to go to round 3, whilst Tseros claimed another victim too. Tseros used a good .060 light in round 3 to send Chris Barnett's tidy rx7 to the pits whilst Forte earned a solo. The final saw Forte claim his first billet "J" trophy when he used a .079 light and a backing-off 13.34 on a 13.18 dial-in against Tseros.
DYO 1: Joe Bresciano (68 Camaro chev 373) Defeated Michael Milasiewicz (Capri 427)

DYO2: Anton Krajina (HJ 454) Defeated Brian Symes (XD 351)
SKY's THE LIMIT: Andrew Dyson 20B RX4

SMOKEN: Alex Cirtoski RB3.2 R33

LIGHT OF THE NIGHT: Joe Bresciano 68 Camaro

CREW STYLE: Team ProMaz