NEWS - ITEM 54
APSA PRO STREET SHOOTOUT AT COMPAK ATTAK
Date: 25/2/09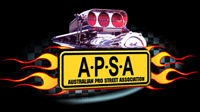 An exciting new feature for the Compak Attak this year will be the APSA Pro Street Shootout!
Arguments over who has the fastest street car are as common as burnouts at a drag strip. But here in Australia, only one group of racers takes the appearance of a true street car and matches it with the performance of fully-fledged drag racing hardware. With chassis modifications that can best be described as either 'limited' or 'non-existent' and engine combinations that see massive cubes, turbos, superchargers and large doses of nitrous oxide, Pro Street is what street car racing is all about.
Their ranks are filled with cars that make everyone in the crowd sit up and take notice regardless of their vehicle preference. And with quarter mile performances extending into the six second / 200mph range, every pass is bound to be spectacular - especially when you consider just how close these awesome pieces of machinery are to what you might find on the street. (In fact, some of the faster performers have been known to hit the street on a regular basis!)
Twin-turbo small blocks, nitrous-fed big blocks, Procharged engines of all shapes and sizes and even a six-cylinder or two thrown in for good measure - if it's absolutely the fastest street car in the land, you'll see it on the start line. The racing is like it was back in the bad old days of street car racing - pro tree and heads up - and you can bet that none of the drivers will be leaving anything behind at the hit of the throttle.
It's wheels up, full noise, street car quarter mile action the way it should be. Check them out at the COMPAK ATTAK on March 15th at Western Sydney International Dragway.

For more details on the APSA log onto their website www.austprostassc.com.au