NEWS - ITEM 55
SYDNEY POWERCRUISE THIS WEEKEND
Date: 25/2/09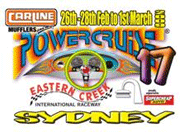 Wanna do something FUN this weekend!!!???
Carline Mufflers Powercruise is "Oz's Wildest Cruisin Car Show" where you can do everything in your car that you're not allowed to do anywhere else. Powercruise rocks Sydney's Eastern Creek Raceway this weekend so head out and you can cruise the race track with your family & friends or race your mates in your streetcar, drifter or purpose built racer.
Cruise, Race, Drift, Skids, Stage shows, Dyno, Hour of Power, World Record Powerskids and plenty more.
Powercruise… It's Addictive!!
Eastern Creek Raceway - Thursday 25th February to Sunday March 1st 2009. Camping and Cruising this weekend visit www.powercruise.com for more info.
The Sport Compact Group will be there in the Party Central area with a display plus we have Street Machine CD's and Ignition DVD's to give away so drop in and say HI.