NEWS - ITEM 64
SNAP-ON TOOLS AUTOMOTIVE APPRENTICE OF THE YEAR
Date: 25/5/09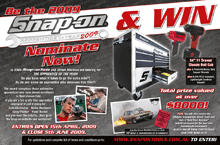 Automotive apprentices across Australia will have the opportunity to be acknowledged in 2009, with the launch of the inaugural Snap-on Tools Apprentice of the Year Award presented by Street Machine magazine.
The challenge to find Australia's Snap-on Apprentice of the Year will commence on 15 April 2009 and will recognise excellence in the automotive industry.
Snap-on invites third or fourth year auto electricians, motor mechanics, spray painters and panel beaters to submit an entry for their chance to become 2009's Apprentice of the Year within their chosen field.
"Apprentices are a fundamental part of the automotive industry's future and will ensure that a high level of trade skills are retained in Australia. Investing in apprentices is an investment into the primary industry we serve", said Steve Jones, National Sales Manager, Snap-on Tools.
Snap-on will reward the winner from each field with over $8, 000.00 worth of Snap-on tools and an invitation to receive their award at Summernats 2010.
"Fulfilling an apprenticeship requires determination and complete commitment for every apprentice. Enabling an apprentice to own professional quality tools from the beginning of their career encourages them to strive and excel at their trade", said Steve.
For eligibility criteria and application forms please visit www.snapontools.com.au or contact 1800 810 581.
__________________________________________________________