NEWS - ITEM 68
IN TUNE PERFORMANCE LOOKING FORWARD TO J19
Date: 19/6/09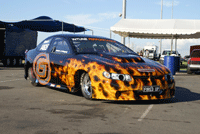 West Australian Aaron Gregory of In Tune Performance, has his eyes set on the Fast Fours & Rotaries Jamboree after great results from recent testing.
With it's fresh new true fire airbrushed paint scheme, the results of In Tune Performance's full tube chassis drag car on its first outing in WA at the Perth Motorplex, with Gas Motorsport engine package was better than all had expected.
"On its first full pass on Sunday the 19-04-09, we ran a PB of 7.39 @ 182.55mph with a sixty foot time of 1.072 running only 30psi boost and ROO16 fuel. This run was backed up with a 7.47 @ 181.98mph and another awesome sixty foot time of 1.074, but unfortunately a gearbox failure stopped us from fronting for the next round and our day was over, but on a good note with a great base line for our next event. The Jamboree 2009 at Willowbank". comments Gregory.
The In Tune Performance team would like to thank all those involved Gas Motorsport, Haltech, Turbosmart and a special thank you to Mark Brant for his countless hours of help in building the car.
Time permitting, the In Tune Performance team hope to did a bit more testing before J19. The team are quite confident they'll be setting into the 6sec zone in the McKern & Assoc Pro Turbo class come the Fast Fours & Rotaries Jamboree on August 29 & 30.
__________________________________________________________