NEWS - ITEM 70
NEW MEMBERS AREA NOW ONLINE
Date: 6/9/09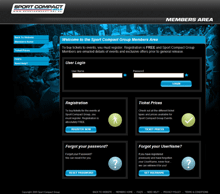 We have updated our website and the way we send out newsletters, which contain regular updates on Sport Compact events and special ticket offers.
For your ultimate convenience we have also established a secure "Members Area" where you can update your personal details, access special offers and purchase tickets to our events.
To gain the benefits of special offers and to purchase tickets, please register as a Member on our website. Becoming a Member is absolutely FREE!
If you wish to become a Member and receive our newsletters, special offers and to pre-purchase discounted tickets online, please click here.
__________________________________________________________