NEWS - ITEM 130
PWR AT JAMBOREE
Date: 12/03/11

We are proud to welcome PWR Performance Products back to the Sport Compact scene in 2011. PWR are a world leader in the design and manufacture of custom Radiators, Intercoolers and Oil Coolers in Australia. As the only specialist manufacturer of complete units and cores, PWR can build for what ever your requirements whether be street, strip or show.
PWR will be in attendance at both the Sydney & Brisbane Jamboree events as the Pro Compact bracket sponsor for 2011, and to kick off their involvement, PWR will be giving away an Aero Intercooler at the Sydney Jamboree. All you need to do is visit the stand, fill in your details and you will you go into a draw to win the 300 x 600 Aero intercooler.
NEW FROM PWR
Intercoolers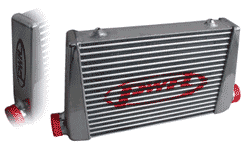 Keep an eye out for the new PWR high end intercooler soon to be released to the Australian market. This efficient intercooler, manufactured at PWR on the Gold Coast, will be extremely light weight with low pressure drop. PWR have developed the intercooler in close partnership with leading race categories. The Prodrive Mini which currently runs in the WRC uses the intercooler and they will also be used in the BTCC as a controlled component. PWR is looking forward to releasing this high end intercooler to the Australian market.
Radiators

PWR have released a new radiator configuration that considerably increases flow and reduces pressure drop improving the efficiency of the radiator core. Initially developed for NASCAR teams the fin pitch is reduced to 4.85 at 19FPI. This configuration increases the number of tubes within a given size which considerably increases the cooling capacity of your radiator.

For more details on PWR Performance Products log onto www.pwr.com.au
__________________________________________________________